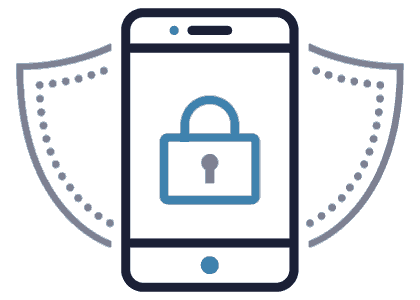 High security standards for mobile devices and company data
Cyber attacks
a growing threat to businesses
Can you imagine a working day without your mobile devices? They offer increased flexibility and agility, make you more productive and more efficient, and are a key part of the digital workplace – the workplace of the future. And yet they don't come without risks: we must never forget that they allow us to access sensitive user and company data, and as such they need to be protected. Not least for data protection and compliance reasons, which are even more important after the introduction of the new General Data Protection Regulation (GDPR) in May 2018. Then there's the growing number of cyberattacks to consider. There's no doubt that data is an attractive target for hackers – and one which is now very much on the radar of criminals.
Companies can suffer huge financial losses, to say nothing of significant damage to their reputation, as a result of data protection or compliance breaches and cyberattacks. No wonder that companies regard good security solutions as a non-negotiable part of their business strategy.
Effective mobile security solutions
to guarantee greater security
Enterprise mobile security is becoming more and more important. We can offer you a range of solutions to help you protect your data, prevent unintentional data sharing, protect your mobile devices from external attacks, and initiate prompt countermeasures in case you fall victim to an attack.
Why are mobile devices
such a risk?
Lack of mobile security expertise
Fewer security precautions
Use outside company networks
Private and professional use of devices
Difficulties to identify attacks
Increasing quality of attacks
Increasing numbers of access points for cyberattacks
User errors due to a lack of security awareness or inadequate knowledge in this field
Get in touch if you'd like to know more about our Mobile Security solutions or other Digital Workplace solutions. We will be delighted to advise you and put together a package tailored to your specific needs.