Sometimes working in the office, sometimes from home and sometimes on the train – with a laptop, tablet or smartphone. This is a flexibility that companies want and need to offer their employees – to increase productivity as well as employee satisfaction. But what sounds so simple presents many hurdles in practice: These start with the attitude of employers and employees, extend through technical issues and end in a balancing act between security, user-friendliness and effort.
But one thing is clear: Companies must meet these challenges, better today than tomorrow. We will show you how to do this and what completely new approaches that go beyond Unified Endpoint Management are available here.
Numerous challenges around the Digital Workplace
Security concerns dominate in many companies. How can it be guaranteed that access on the go is possible everywhere and that it is actually secure? What equipment is needed to do this? What applications are required? How can they be managed and how can all this be integrated into the company's infrastructure?
Employees in addition have high demands on user-friendliness: Outside the company network and via smartphone, all processes should be able to be carried out at least as well as on the desktop computer in the office – without having to constantly enter passwords or forego important functions. Others, are generally critical of changes and want to stick to the traditional work model. And they all run the risk of contributing to the endangerment of sensitive data through careless behavior.
This is a major challenge for companies: They have to manage the balancing act between user-friendliness and security, while ensuring that IT efforts and costs are not too high.
Making the Digital Workplace a reality
Manage devices efficiently
Good technical equipment, which allows to work from everywhere, is essential for the digital workplace. It makes no difference whether a company decides to use company-owned devices, e.g. because of better management possibilities, whether these devices may also be used privately to offer the users more comfort and a status symbol, or whether private devices may also be used for professional purposes, to give the users a free choice of devices, but accept greater challenges in protecting privacy. Because no matter what a company decides on, there are good options for all scenarios to manage the devices centrally and efficiently in order to implement security requirements while also providing employees with the relevant applications and data.
Unified Endpoint Management systems are a keyword here. Because with their help, it is possible to manage all devices – regardless of whether they are smartphones, tablets, laptops or video systems – via a single platform and enforce security policies. This allows employees to access company data and applications from anywhere – securely and with a manageable IT effort. And in the event of an attack or theft, sensitive company data can be removed from the device and attacks can be fended off. There are various providers of UEM systems, which you can learn more about here and which are suitable for different purposes depending on the requirements of the company.
But there are also other approaches that provide a virtual work environment on each device – such as BlackBerry Digital Workplace. The virtual workspace contains all relevant company applications and data, hosted on a secure server and accessible via a browser. Employees can enter this environment via single sign-on and can access all relevant data and applications. Many other security features ensure a high level of data security.
We can advise you on the choice of the right device strategy and show you how the devices can be managed efficiently and securely, taking your requirements into account. You can find out more about this here.
Ensuring security, as well as a high level of user-friendliness
But security alone is not enough. Overly complex security mechanisms limit the end-user experience and reduce their acceptance. They therefore demand user-friendly processes – including, for example, login without entering a password.
This is exactly what can be achieved by combining the concepts of "Zero Trust" and "Zero Touch"/"Zero Password". While the "Zero Trust" principle does not trust any user, device or application within or outside of its own network and therefore always checks the trustworthiness, the "Zero Touch"/"Zero Password" concept ensures that no password is required in the event that the situation is classified as trustworthy.
Intelligent policies must be in place to achieve this. These can be used to control when a user needs a password to login, when two-factor authentication is required, when access is interrupted due to usage anomalies, and when no password needs to be entered at all.
Solutions from Blackberry even go so far as to include user behavior: Deep learning registers whether a device is usually unlocked with the left hand or how much pressure was exerted when entering a password. If the behavior deviates, this is recorded, and previously defined measures are taken to react.
We can support you in implementing the Zero Trust concept and in defining and enforcing guidelines that intelligently protect your data.
Enhancing the digital experience
There are also many other solutions that can increase the digital workplace experience even further: From communication solutions that enable individuals and entire teams to communicate quickly and efficiently from anywhere and at any time. Over software that simplifies the publishing of apps that are essential for mobile working. And security solutions that are particularly suited to ensure the security of devices and ward off attacks. To solutions that ensure that printing from mobile devices is secure. And software that optimizes network connections and improves their performance.
We can advise you on whether and which solutions make sense for you, whether you should choose a cloud solution or an instance in your own data center and how an implementation can be realized.
Taking employees on the journey
No technology can provide 100 percent protection from dangers. It is therefore a very important factor to sensitize employees to dangers and to accompany them with tips on the digital workplace and technologies. Regular training courses, which show how easy it is to become the victim of an attack, and guidelines that regulate the handling of the end devices are helpful in this respect.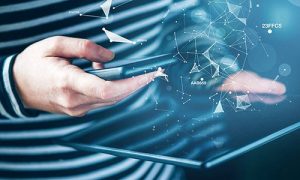 Listen to our webinar on March 12 to learn more about the challenges of the digital workplace and the solutions BlackBerry offers.