SIM cards generate a lot of work on the part of IT and end users and make it difficult to change telecommunications providers or use a different contract – for example, when traveling abroad. The eSIM solves many of these problems: There is no fiddly card insertion required, it reduces the potential for misuse, and it can easily be distributed to multiple devices.
However, distributing, managing, and activating the eSIM still poses a challenge. This is why EBF, in cooperation with Deutsche Telekom, has developed a solution that makes it possible to quickly and effortlessly assign an eSIM to a mobile device and activate it. Thus, enabling devices to be put into operation fast.
What is an eSIM and what are its advantages?
An eSIM ("e" stands for "embedded") is a chip embedded in the mobile device that replaces the classic SIM card – regardless of whether it is in mini, micro, or nano format – and is used to authenticate the user in the mobile network. A profile with user data for the respective network operator is stored on the eSIM and it is possible to store multiple profiles (several tariffs or different providers) on one eSIM chip (with only one being active at the same time). For example, when traveling abroad, a new profile can simply be loaded onto the device – without having to buy and insert an extra physical SIM card. Roaming costs in non-EU countries can thus be significantly optimized. Furthermore, the potential for misuse of company cards is reduced, as there is no longer a physical card that can be removed and reused in another device.
For the user, the eSIM eliminates the usually cumbersome insertion of a SIM card and the need to carry more than one device. Because in addition to the eSIM used for business purposes, a physical SIM card can also be inserted into the device for private use.
What are the challenges of eSIM management?
Compared to the SIM card, an eSIM has many advantages. Nevertheless, it does not solve all problems. Namely, distributing and managing the eSIM still poses a challenge. Activation requires a variety of data from different sources (serial number, IMEI number, and eID), which cannot be retrieved centrally via any system. Users must also be sent an activation code and then scan or enter it to activate the eSIM. If a cell phone is lost, there is also a great deal of effort involved.
What does the eSIM Business Manager do?
The eSIM Business Manager provides significant added value in the management of eSIMs. Worldwide, it is currently the only solution capable of combining information from different systems in such a way that administrators can quickly and easily activate an eSIM remotely, assign it to a new device, or revoke it again if necessary. This eliminates many manual steps that can cause a lot of effort, especially with large numbers of devices. Many unnecessary costs can be avoided.
Even the user-friendliness is excellent: Employees receive an indication of the available eSIM in the settings of their device and can activate it completely with just a few clicks and use the mobile communications contract immediately. This added value is particularly notable in cases where a company not only uses a UEM system but also employs a Eevice Enrollment Program/Zero Touch Enrollment. Because then, the eSIM can already be activated automatically when the device is commissioned.
The eSIM Business Manager also enables the change from a physical SIM card to an eSIM to be carried out seamlessly. The portal provides a clear overview of all the details relevant to the contract, which come together from the various systems.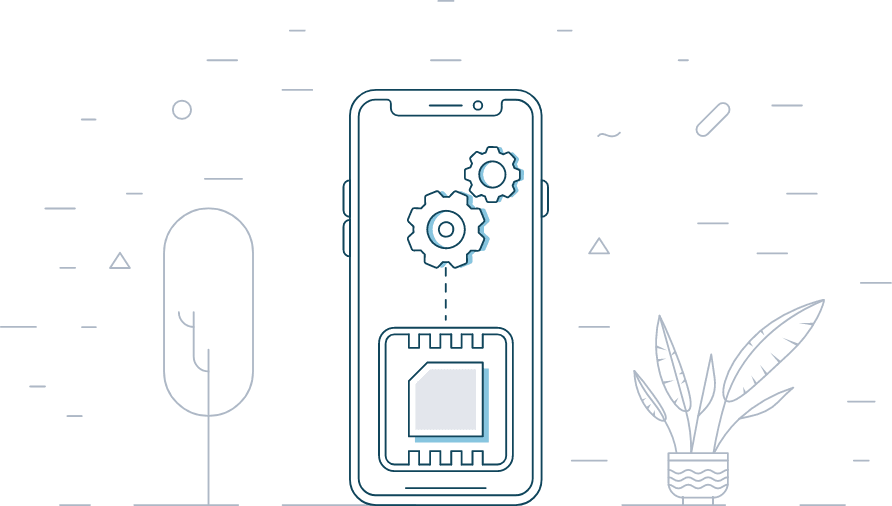 The requirements for using the eSIM Business Manager are eSIM-capable devices and, in Germany, a framework agreement with Deutsche Telekom. International use is also possible for other carriers.
Are you interested in learning more about the eSIM Business Manager?
We would be happy to hear from you.