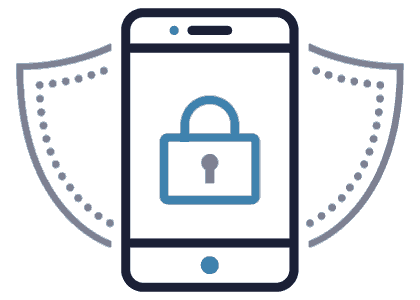 High security standards for mobile devices and company data
Secure mobile work thanks to
mobile security solutions
Security solutions are indispensable for companies today: Employees increasingly want and need to work outside the corporate network, regardless of location, and use mobile devices such as laptops, smartphones, and tablets to access sensitive corporate data. However, mobile workplaces represent an attractive target for criminals. As a result, the number of cyberattacks on companies is steadily increasing. Hackers are constantly developing new, intelligent attack methods, and user errors caused by ignorance or lack of awareness can also spell doom for companies.
Defend against
attacks successfully
Attack methods are becoming increasingly professional. We help you proactively secure your mobile devices against attacks, detect attacks more quickly, and take effective countermeasures if the worst comes to the worst.
Secure access to your
applications and data
Corporate data should therefore be comprehensively secured – in the office as well as on the road. We'll show you how to encrypt connections so your employees can access data and applications without worry.
Encrypt connections using a VPN solution, while also ensuring more reliable connections, a user-friendly login, and better cost control.
Clear separation of
business and private data
We show you how to separate business and private data to ensure both a high level of data security and privacy protection.
Protect and secure professional data using a container and make it accessible via one app – clearly separated from private content.
What security risks
do companies face?
Ransomeware
Social Engineering
Phishing
Malware
Deepfakes (using AI)
Denial-of-Service (DoS) attacks
Human errors
Constantly new variants: According to the BSI on average, 322,000 new types of malware are developed every day