Jamf: Centralized, secure management of Apple devices
Jamf specializes in the management of Apple devices and has been offering innovative solutions for the management of Apple devices throughout their lifecycle to companies since 2012. The Jamf Pro Enterprise Mobility Management solution enables IT departments to efficiently and securely manage Macs, iPhones and iPads in companies via a central platform.
Jamf supports all integrated functions and interfaces that the iOS, iPadOS and macOS operating systems offer specifically for device management, enabling the best possible interaction between Apple technologies and the Enterprise Mobility Management system. New features that Apple provides for the devices are available virtually the same day in the updates for Jamf Pro.
This will significantly improve the user experience for employees, simplify the day-to-day administration for IT administrators and increase security.
Jamf Pro

Beratung, Implementierung und Support
Unsere erfahrenen IT-Consultants beraten Sie rund um den Einsatz von Jamf Pro in Ihrem Unternehmen. Wir begleiten Sie während des gesamten Lifecyle:
Implementierung von Jamf Pro in Ihre IT-Landschaft
Rollout der Lösung und Schulung Ihrer Mitarbeiter
Aufzeigen von Optimierungspotential, wenn Jamf Pro bereits genutzt wird
Erstklassiger Support zur Entlastung Ihrer IT und optimaler Betrieb
Aufgrund unserer engen Partnerschaft zu Jamf können wir auch für neue Anforderungen gemeinsam passende Funktionen entwickeln.
Deployment - efficient procurement and deployment
With the help of Jamf Pro a DEP registration is possible. This allows IT teams to remotely register mobile devices in the UEM via the Apple Business Manager and configure them according to company specifications. When employees receive their devices, they only need to go through a few IT-defined steps and can begin work immediately. The device is automatically placed under the management of the UEM system upon commissioning.
Mobile Device Management - comprehensive device management
The Mobile Device Management is the basis of Jamf Pro and serves the central administration and protection of Apple devices. Among other things, the following functions can be carried out:
Configuration of devices and distribution of apps
Definition and enforcement of security policies
Release and deletion of company data and access rights
Monitoring of devices and device information
Running macOS scripts for maximum flexibility in device management
Performing system-level tasks using the Jamf Agent add-on module
Perform system-level tasks using the Jamf Agent add-on module
Mobile Application Management - mobile application administration
The Mobile Application Management component supports IT teams in the central administration of (corporate) applications throughout the entire life cycle.
This module offers the following functions, among others:
Purchase of apps in large quantities from the Apple Store and license management via the Apple Business Manager (Volume Purchase Program)
Use the Device Enrollment Program (DEP) for iOS devices and Macs
Provision, installation, personalization and distribution of apps
Creation of black- and whitelists
Upgrade, uninstall and secure applications
Set up an enterprise app store with confidential applications and extensive user functionality (Jamf Self Service)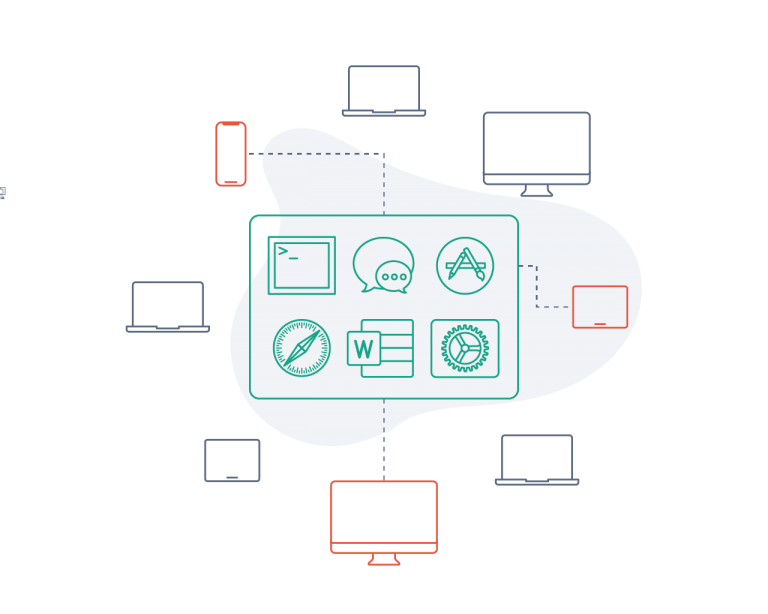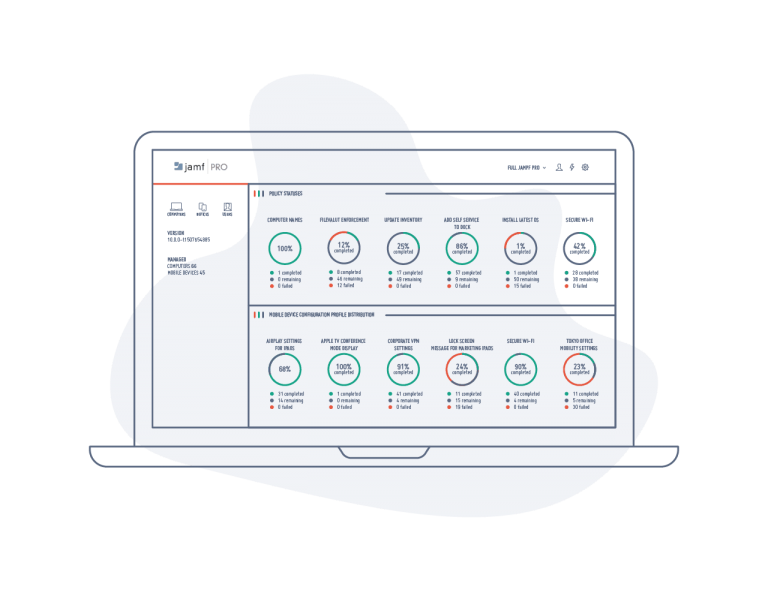 Inventory management - all inventory data at a glance
With Jamf Pro, the equipment inventory of employees can be automatically collected, sorted by criteria and exported as a report. For example, operating system version, installed apps including version, device type, serial number and encryption status are recorded. In this way, IT administrators always have an overview of the devices to be managed and can, for example, check compliance with security regulations, expired software versions or warranty periods at the touch of a button.
Patch management - automatically close security gaps
This feature enables companies to close security holes that persist longer due to delayed or missing updates, either automatically or by prompting users. Notifications keep IT managers informed of the latest patches of operating systems and applications in use and allow them to assign them to specific groups and monitor installation progress, either directly or after individual customization.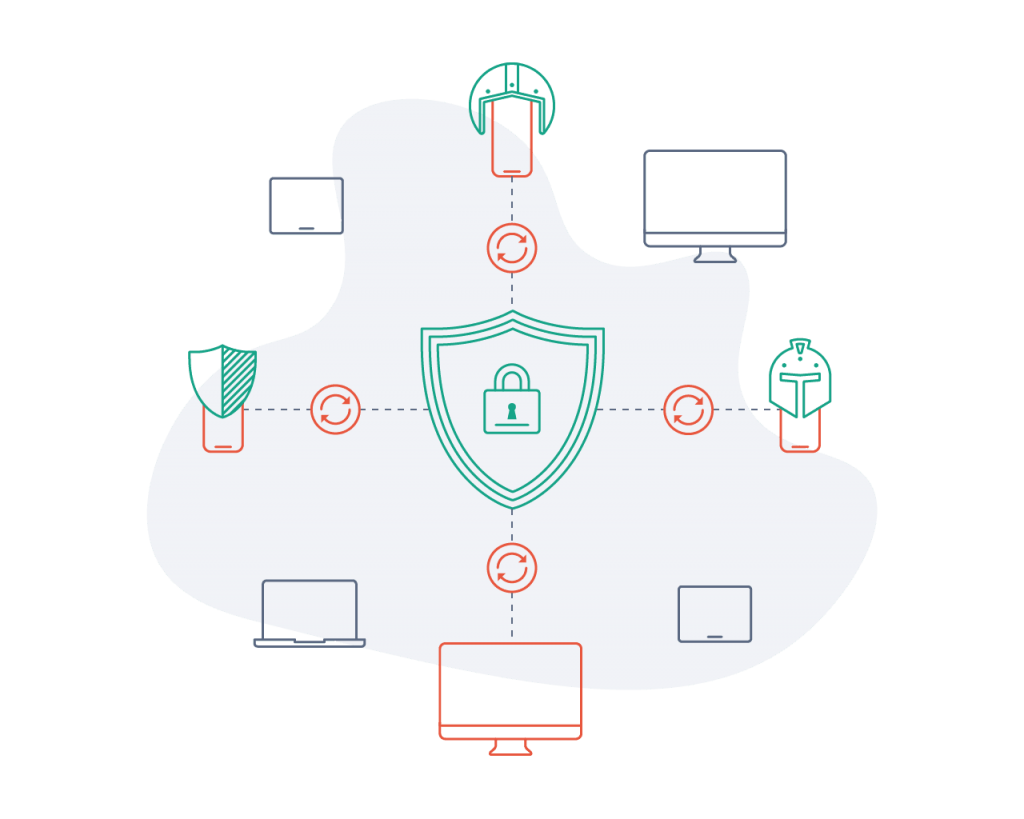 Sie haben bereits eine MDM-Lösung im Einsatz, möchten aber zukünftig Jamf Pro zur Verwaltung Ihrer Geräte nutzen? Der EBF Onboarder ermöglicht eine reibungslose, automatisierte Migration von den gängigen UEM-Systemen zu Jamf Pro – mit geringem Aufwand für die IT und innerhalb kürzester Zeit. Das klingt interessant? Dann kontaktieren Sie uns jetzt!
Sie benötigen eine Verwaltungslösung für den Bildungsbereich? Dann erfahren Sie mehr über Jamf School – eine Lösung zum Management von Apple-Geräten, die speziell auf die Anforderungen von Schulungen zugeschnitten ist.
Contact us to learn more about Jamf Pro or other Digital Workplace solutions. We will be happy to advise you and provide you with an individual offer.