For many years now, the B2Run – a company run around Cologne's RheinEnergieSTADION – has been an integral part of EBF's event schedule. In 2020, the run was cancelled due to Corona and replaced by the B2Mission: a four-week program that strengthens team spirit and provides opportunities to be active, even during home office periods. After a successful participation last fall, we went on B2Mission again this year and collected points with a lot of fun, passion – and maybe a touch of craziness. The right mixture, which helped us achieve a great 3rd place together!
5,424 km – by foot and bike
On June 7, the kick-off for the B2Mission took place for 23 EBF colleagues. The task was to use an app or fitness watch to track as many walks, jogs and bike rides as possible or to complete challenges with specific tasks. In this way, everyone was able to pick the right discipline or even discover new passions for themselves.
The EBF team covered a total of 5,424 kilometers, making it almost from Cologne to Boston, and with 1,294,530 points to an excellent 3rd place in the category "Under 30 Participants". In the overall ranking of all companies, the team came 49th.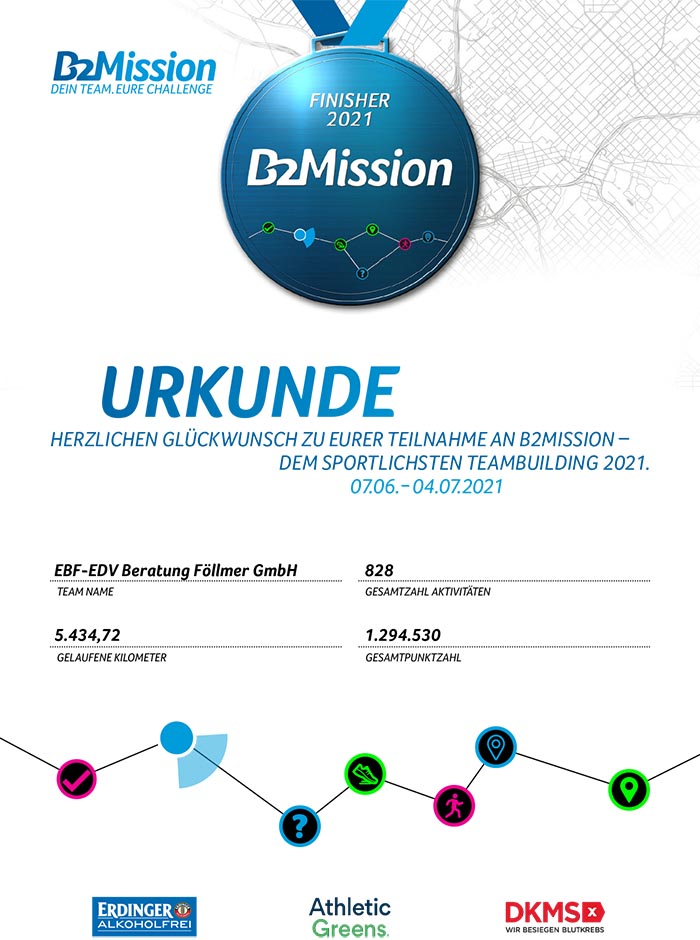 More than just a running event
After the long home office period, the B2Mission was a welcome change and allowed for a long-awaited reunion.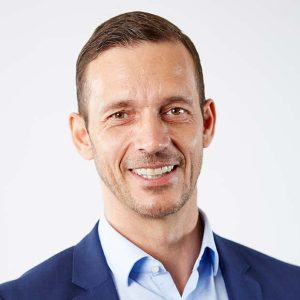 "We had to do without many of our established team events in the past few months. Thanks to the program, we were finally able to get active together again – and did that so successfully. That' s great!"
Markus Adolph
Managing Partner of EBF, who also contributed many kilometers
"It was great to finally see the team in person again, and to see how everyone really makes an effort and fights together for the points for the EBF – even in the pouring rain. Now I'm looking forward to getting back to the office even more."
Heiko Zeumer
Consultant and enthusiastic runner
The B2Mission also provided the opportunity to learn even more about colleagues and see who is active in sports in their free time. Some even saw each other for the first time during the runs – completely without video conferencing. Because even during the Corona period, the team continued to grow.
Talents, tricks and gym bags
The EBF colleagues completed a number of challenges together along the Rhine, around the stadium and in other parts of Cologne, complementing each other perfectly: While some convinced with orientation talent, others mastered special tricks for route optimization or were able to help out in case of forgotten gym bags – a recurring problem. 😉
"I was very happy that the B2Mission took place again this year. This once again shows that there is a special team spirit at EBF. As the weeks went by, our ambition grew steadily as we saw what was still possible."
Dennis Wittig
Consultant at EBF since 2017 and participating in the B2Mission for the second time
The EBF colleagues knew how to motivate themselves in various ways: through a lively exchange in the B2Mission team chat as well as by looking at the activity feed in the app with many impressive performances. And of course, the best cookies in the world were a great motivator, too (thanks, Heiko!).
A balance to work is crucial
In addition to some other health offers, colleagues, for example, can get an Urban Sports Club membership as well as the opportunity to exercise in EBF's own fitness room. And soon, the offer will be expanded by a job bike option, which is certainly attractive for some.
Especially for those who got a taste for it through the B2Mission. After all, the program motivated many to exercise regularly – something that can be neglected, especially in the home office. Many distances that would otherwise be done by car were now done by bike. Surendiran Velauthapilai, who cycled 13 km to the office – often with a long way round – impressed in particular:
"I will certainly keep doing that in the time after the B2Mission. Maybe not every day, but regularly. It's a much better way to start and end the day. The B2Mission was a great incentive here."
Surendiran Velauthapilai
Head of IT Services, who replaced many car rides with bike trips
A total of 268 companies and 6,906 participants took part in the B2Mission – significantly more than last year. What started in 2020 as a Corona alternative has convinced many thanks to an innovative concept and will certainly be continued in the future. We would be on board! All the way to Boston or beyond!