Unified Endpoint Management – for the digital workplace
EBF is a Partner for Microsoft, the world's leading manufacturer of standard software and services, and one of the leading suppliers of digital workplace solutions – including the Unified Endpoint Management (UEM) system Microsoft Intune.
Microsoft Intune offers central management of devices, apps, and content via a single platform and is part of the comprehensive Microsoft Enterprise Mobility + Security suite. This solution helps make flexible digital working a reality, with guaranteed security and an eminently manageable workload for your IT department.
Microsoft Intune is made up of three elements – Mobile Device Management, Mobile Content Management and Mobile Application Management – and it also guarantees intelligent access management.
EBF is an experienced Microsoft Partner
We can help you implement the Microsoft Intune UEM solution and we will be here for you in each and every project phase – from consulting and conception, through preparation and implementation, right up to rollout and operation. Our expertise is at your disposal.
As a Microsoft Managed Partner with gold status in areas such as "Collaboration and Content", "Windows and Devices" and "Data centers" and silver status in fields such as "Application Development" and "Messaging", we work closely with Microsoft to align our products and services perfectly and offer you a complete package as a one-stop solution. This leaves you free to concentrate on your core business areas, in the knowledge that you can rely absolutely on our expertise and experience.
Components of
Microsoft Intune
Mobile Device Management allows your IT team to manage and protect devices using a central system. This is the cornerstone of UEM, and includes the following key functions:
ability to define security policies
device set-up and rollout in line with company and security policies
device monitoring to ensure compliance with corporate standards
Mobile Content Management
Mobile Content Management protects your company data and offers you a range of options, including:
monitoring company data and denying access if necessary
restricting "Copy & Paste" and "Save as" functions to authorized applications and secure locations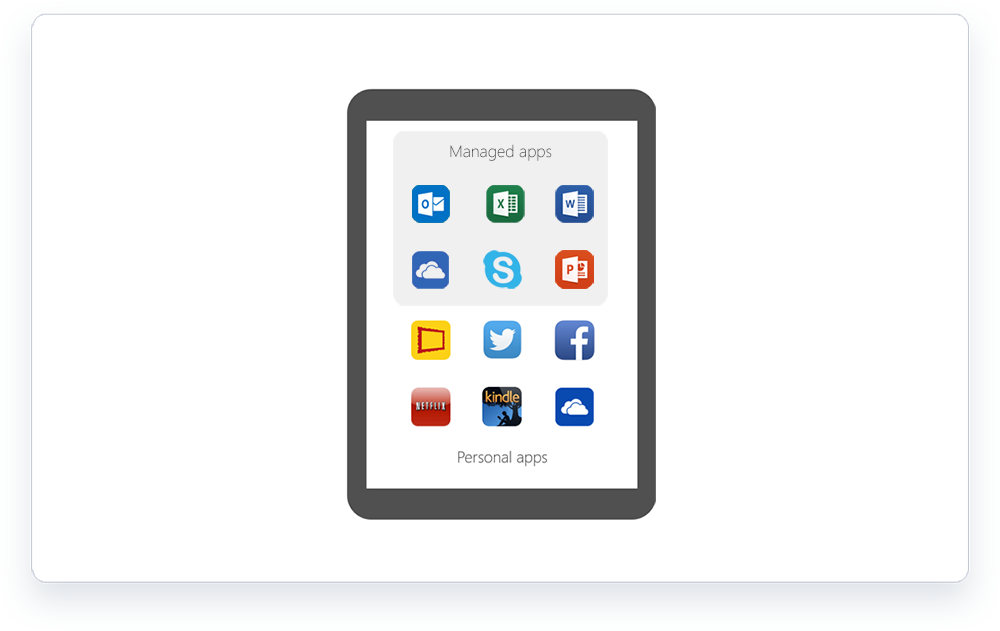 Mobile Application Management
Mobile Application Management allows your IT team to manage applications via a central system:
by defining policies to protect the apps
by setting up apps in the first place
by providing and updating apps
by monitoring all applications and their uses
Mobile Application Management – Without Enrollment (MAM-WE): by using MAM-WE, you can even manage Microsoft Office apps that usually contain confidential company data on devices that aren't managed via a Mobile Device Management system – even on private devices.
Microsoft Intune makes sure that only authorized users with authorized devices can gain access to your company data. Multi-factor authentication offers extra security, and the ability to use single sign-on in secure environments leads to a high level of comfort.
Managing a range of device landscapes
Businesses often have to contend with a range of device landscapes: these may include company devices, employees' own devices, or devices managed by third-party suppliers. Microsoft Intune allows you to manage all of these devices via a single platform, guaranteeing secure access to company data in the process.
Microsoft Enterprise Mobility + Security
In addition to the Unified Endpoint Management Microsoft Intune for central management of devices, apps, and content, the Microsoft Enterprise Mobility + Security suite also includes other features to make digital working secure and efficient. These include:
comprehensive identity and access management to protect user accounts and data by intelligent policies, while guaranteeing both security and convenience
identity and risk-based security management to protect accounts and data, while offering high levels of transparency for user activities and an immediate response to suspicious actions
a comprehensive module to protect sensitive company data by encoding and classifying data, plus corresponding policies and access restrictions for the various confidentiality levels
Secure
cloud-based solution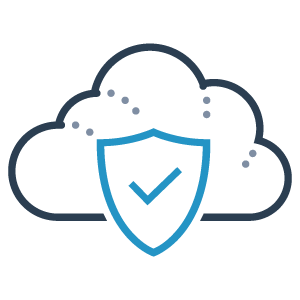 Microsoft Intune is available as a cloud-based solution hosted in a secure computer center. You will enjoy a reliable service, excellent availability and stability – without long implementation times and without effort for provision, administration, security, and maintenance of the infrastructure.
Get in touch if you'd like to know more about Microsoft Intune or other Digital Workplace solutions. We will be delighted to advise you and put together a package tailored to your specific needs.