Effective protection against cyberattacks
Mobile devices are a lucrative target for hackers: they provide access to sensitive data, which can cause considerable financial damage if it gets into the wrong hands, and such devices are comparatively easy to hack. As has always been the case, far too many businesses take inadequate security precautions, even though the quality of attacks and the number of access points are steadily rising. Hence why the number of cyberattacks is on the up. The risk looks set to continue to rise in the future, not least because mobile devices are being used more and more in the digital workplace and now represent an integral part of work processes. If a device is attacked, the integral security mechanism offered by the operating system can be bypassed and a great deal of damage caused in the process. This is precisely why it is crucial that you provide effective protection for mobile devices used in your business.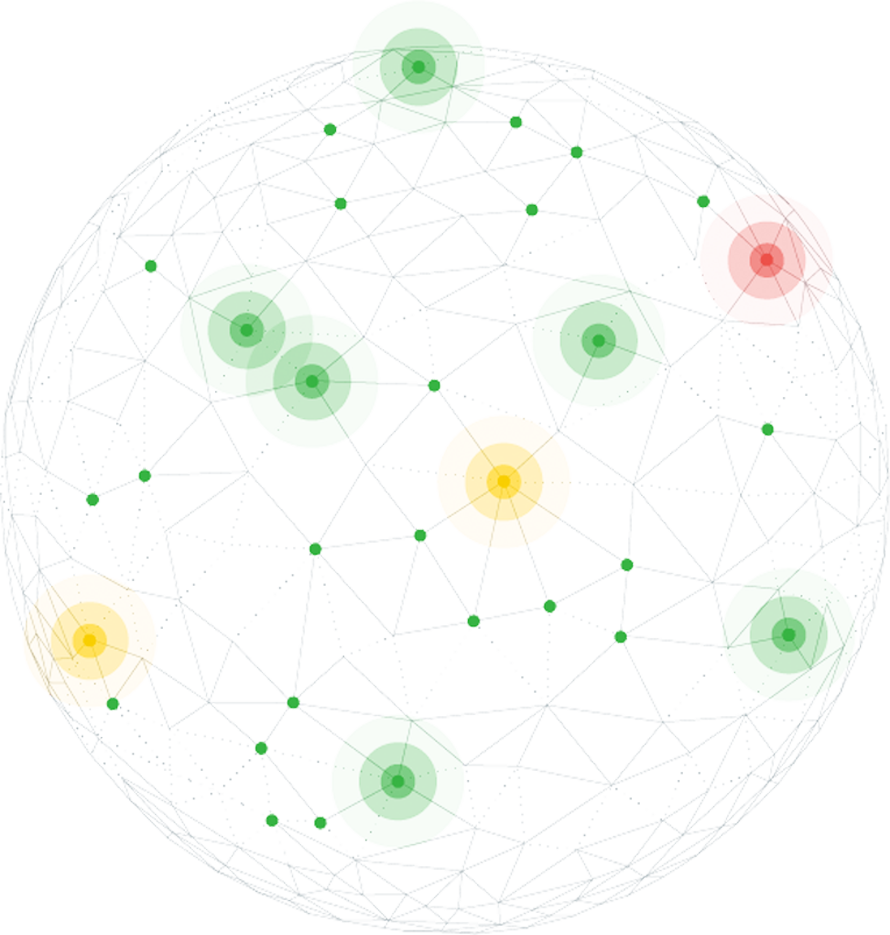 EBF is an experienced Lookout partner
We can help you install Lookout as part of your systems, significantly improving the security of your mobile environment. You will benefit from our many years of experience, numerous implementation projects, and last but not least from our expertise in the field of Unified Endpoint Management. This enables us to reliably guarantee the integration of Lookout as part of your UEM system, offering effective protection even for large-scale device landscapes. Thanks to our excellent relationship with Lookout, we are able to take advantage of the latest developments in the mobile security sector and always guarantee secure protection for your mobile devices.
Comprehensive security for mobile end devices
Lookout offers a high level of security for your mobile devices, data, and apps, and can be integrated in your Unified Endpoint Management system. This solution includes the following functions:
Allows you to take security precautions
Provides access control so that only trusted devices can access company data
Offers early detection of and defense against app, device, network and web-based risks and attacks
Allows you to take countermeasures in the event of an attack (e.g. by blocking access)
Adds an additional security layer to company apps to ensure proactive protection of sensitive customer data
This means you can protect sensitive data, avoid costly financial damage and make the most of the undoubted potential offered by mobile devices.
Lookout protects against various mobile threats
Trojans and spyware
Weak spots such as app-based data transfer and storage
Apps from unofficial app stores
Phishing emails to private or business accounts
Text messages with links to malicious websites
Obsolete operating systems
Risky configurations
Irregular user behavior
Jailbreaking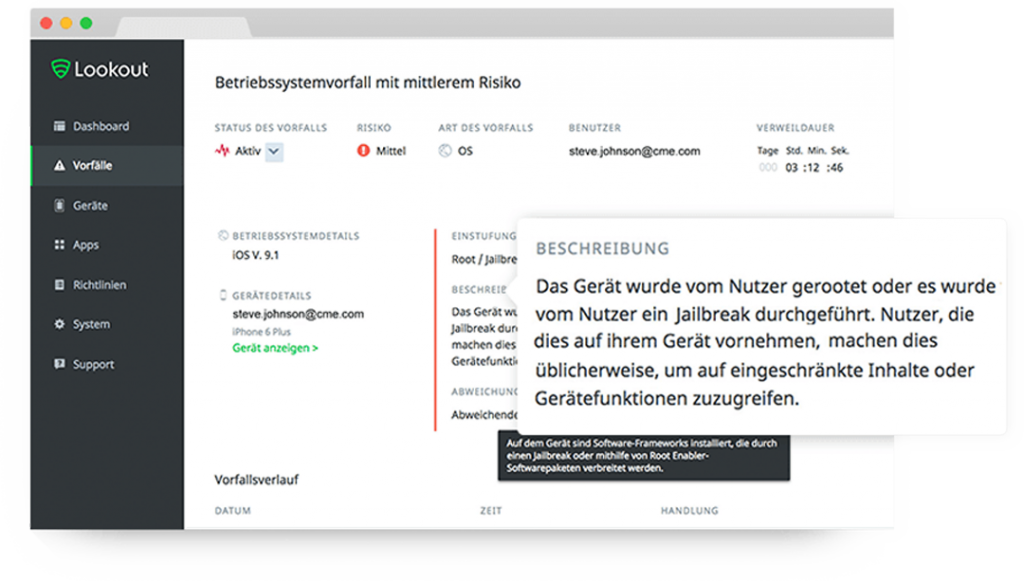 Man-in-the-middle attacks
Host certificate hijacking
Intelligent threat recognition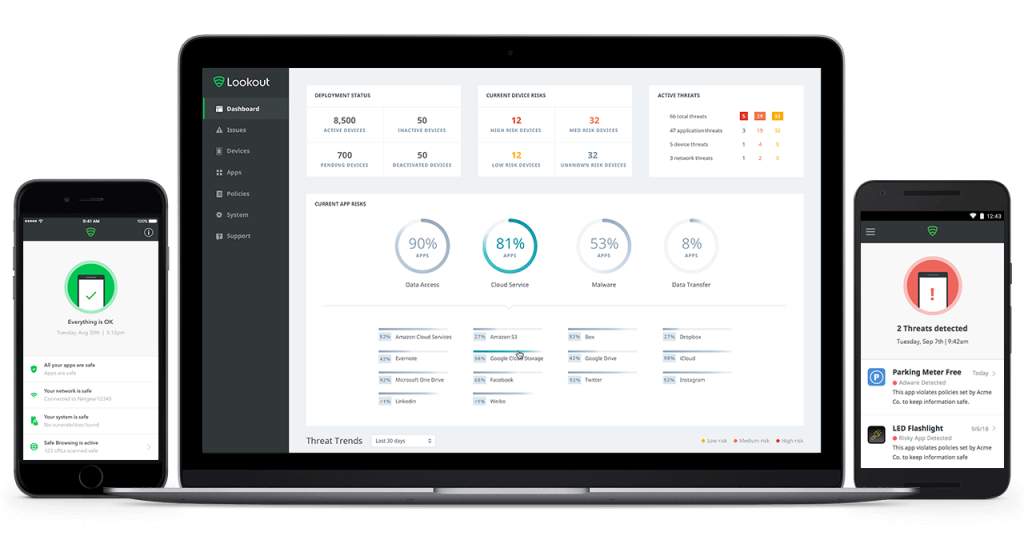 Lookout constantly monitors the system status, identity, and background of your devices and is able to identify anomalies and risks. This solution is based on information built up from 170 million mobile devices, which enables it to accurately recognize and defend against known and unknown threats, risky device configurations, and weak spots as soon as they arise.
Protection from phishing attacks
Phishing attacks are one of the greatest dangers for mobile devices. In such attacks, the perpetrators send an e-mail or message to the user in an attempt to get them to click on a malicious link. This then either causes malware to be installed on the user's computer, or leads to a seemingly legitimate, but fraudulent landing page from which sensitive user data can be harvested. Phishing attacks are becoming increasingly professional, which makes them very difficult to detect. Lookout can protect your employees from phishing attacks by monitoring all outgoing links from a device and blocking access to doctored links. In other words, Lookout offers real-time protection and prevents attacks on user data, as well as preventing malware from being installed on your devices.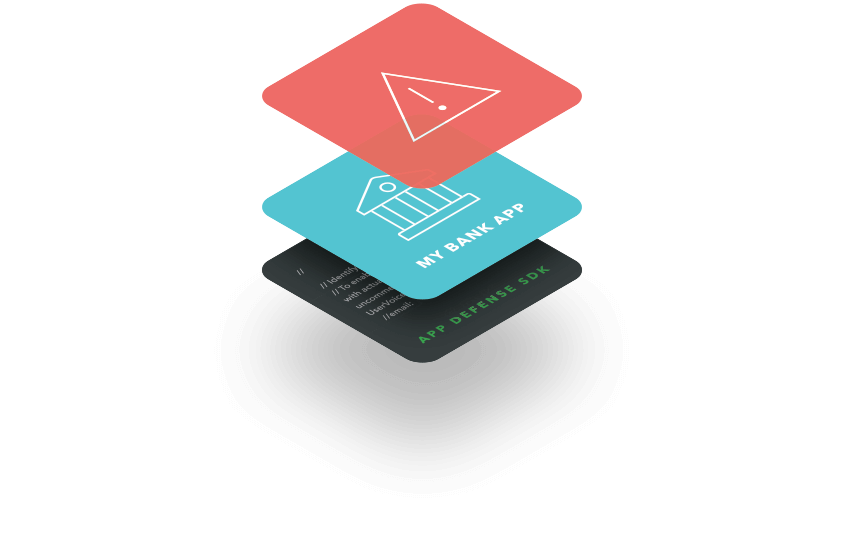 Lookout offers you a Software Development Kit (SDK) so that you can add an additional layer of security to your own apps. Once an app has this extra security layer, it can no longer be used if a risk is detected on the customer's device. This allows you to protect your customers' data proactively, even if the user in question doesn't have security software on their mobile device. This kind of protection is a valuable asset, especially for apps used to transfer sensitive data.
Get in touch if you'd like to know more about Lookout or other Digital Workplace solutions. We will be delighted to advise you, put together a package tailored to your specific needs and give you the opportunity to test the solution for a month.