Loss of quality and transparency in mobile network connections
In order to enable employees to work productively on the move, access to company data and applications should be possible everywhere. That being said, the connection quality outside the owned office network can only be influenced to a limited extent by the IT department.   With patchy 4G mobile coverage and a multitude of unsecured public networks, the use of mobile devices such as smartphones, tablets or laptops makes mobile working a test of patience for employees – and a security risk for companies.   Insecure mobile networks can be a gateway for criminals and thus endanger the IT security of the company. At the same time, poor network performance leads to an increase in helpdesk calls from mobile users, whose problems are difficult to track due to a lack of data. This makes it much more difficult for internal IT teams to diagnose issues.
NetMotion® for improved performance and connection stability
The versatile NetMotion® solution improves the user experience of employees, especially in connection with voice and video apps, and simplifies the day-to-day jobs of IT administrators. For example, NetMotion® enables mobile working by optimizing the connectivity and video-conferencing quality of apps such as Teams, Skype for Business and Webex. It also offers IT teams improved analysis and optimization options for device, application and network activities.
We support you with the implementation of  NetMotion® and the seamless integration with your UEM system. In doing so, we are always available to advise and support you and your IT team. We unterstand the possibilities and functions of NetMotion® in detail and work closely with the manufacturer. This enables us to develop solutions for you together with the manufacturer, even for individual functional requests.
Sie haben die Wahl: Hosting in der Cloud oder Installation in Ihrem Rechenzentrum?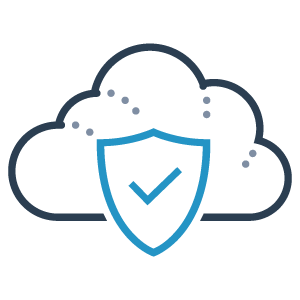 As the only European partner we offer you the possibility to use NetMotion® as a cloud solution - hosted in the secure data center of EBF. You benefit from a reliable service as well as high availability and stability.
Or opt for the on-premise variant and retain full control of your IT landscape. We ensure a smooth installation of the solution in your own data centers according to your requirements.
NetMotion Mobility®: Smooth mobile access
NetMotion Mobility® is a mobile VPN software that provides employees with stable and encrypted network connections that are optimized for transporting voice and video data. This ensures secure mobile working even under difficult conditions (such as roaming between low bandwidth networks) and improves the user experience.   If an employee moves with his or her mobile device through different networks with various connection strengths, the software automatically carries out transparent and secure connection changes between mobile, Wi-Fi and cable networks in the background. This ensures a seamless connection and prevents data loss or multiple log-ins.   In addition, NetMotion Mobility® significantly optimizes the connection quality in use, by automatically reducing the size of large files during mobile transmission, thus accelerating the transfer speed. NetMotion Mobility® can be seamlessly integrated into common Enterprise Mobility or Unified Endpoint Management systems.
NetMotion Diagnostics® enables IT managers to remotely identify the causes of mobile device connectivity problems. To do this, NetMotion Diagnostics® captures activity data from the mobile device, the infrastructure components used, the corporate server, or the private or public network on which the employee is located. With just a few clicks, administrators can identify connection problems and take corrective action.
NetMotion Mobile IQ®: Visualization of mobile performance
With the help of NetMotion MobileIQ®, activity data captured by NetMotion Mobility® and NetMotion Diagnostics® can be clearly displayed in dashboards. Real-time analysis of device, application, and network activity can be accessed, subscribed to, and captured. Data can also be searched by device or user and sorted by location and time stamps. This enables IT teams to accurately track activities and chains of action, meaning they can accurately identify and assess the root causes of problems. This data analysis is critical to IT managers who need to process helpdesk requests from employees quickly and efficiently.
Advantages of NetMotion® at a glance
Contact us if you would like to find out more about NetMotion ® or other digital workplace solutions . We would be happy to advise you, make you an individual offer and offer you the opportunity to test the solution for a month.