Whether working in the office, from home, at customers' premises or in a café – companies today want and need to enable their employees to work independently of time, location and network. This flexibility can increase employee satisfaction and productivity. This however, is only possible if technical requirements are met and secure and stable access to company data and applications is possible everywhere.
This is precisely what often presents companies with enormous challenges, as the connection quality outside their owned office network can only be influenced to a limited extent by their own IT department. In addition, the data should also be transported securely via the communication channels. This can quickly become a problem when employees are using and roaming between public networks.
With NetMotion, EBF has a new partner in its portfolio that has a solution for precisely this problem. NetMotion's intelligent software solution ensures consistent connectivity for an overall improved user experience, while keeping data in transit secure. Learn more about the NetMotion solution in our blog article.
Mobile working as a challenge for users and admins
With patchy 4G mobile coverage and a multitude of unsecured public networks, connecitivity remains a major challenge when it comes to using mobile devices like smartphones, tablets or laptops outside the four walls of the office.
For IT departments, these situations are problematic in several ways. Firstly, mobile access to sensitive corporate applications using unsecured networks offers an attractive point of attack for cyber criminals and hackers. This of course poses enormous risks for corporate IT security.
At the same time, poor network performance leads to an increased number of helpdesk calls from mobile users, whose problems are difficult to track due to a lack of data. Because connection problems are usually caused by external network operators, to whose data the internal IT has no access, a solution or improvement of the connection by the internal IT teams is made considerably more difficult.
New EBF Partner: NetMotion
This is where EBF's newest partner NetMotion comes in. This intelligent software solution secures all connections while improving the mobile user experience of employees. At the same time, NetMotion simplifies the day-to-day work of IT administrators.
With NetMotion, employees experience smooth mobile working – without disconnections and multiple log-ins. IT managers benefit from improved visibility into the device fleet, regardless of the network used. Analysis and optimization of device, application and network activities, as well as integration into a unified endpoint management system is made easy.
The NetMotion solutions at a glance
NetMotion Mobility®
NetMotion Mobility® is a mobile VPN software that offers employees stable and encrypted network connections with reliable connection quality on their mobile devices. This enables secure mobile working even under difficult conditions. The software automatically ensures secure switching between different networks and thus ensures a seamless connection. In addition, the connection quality is significantly optimized even in poor network conditions.
NetMotion Diagnostics®
NetMotion Diagnostics® enables IT managers to remotely identify the causes of mobile device connectivity problems. The solution collects data from both the end device and the infrastructure in use to quickly and reliably identify bottlenecks or failures. NetMotion does not analyze the infrastructure components themselves but analyzes data from the mobile devices that consume the services of the infrastructure components.
NetMotion Mobile IQ®
With NetMotion MobileIQ®, activity data collected using NetMotion Mobility® and NetMotion Diagnostics® can be clearly displayed in dashboards and accessed in real time. This allows administrators to process helpdesk requests much more efficiently.
Would you like to learn more about NetMotion solutions and their use in your company? We would be happy to advise you on how you too can ensure smooth, mobile working and support you in the implementation in your IT landscape. Contact us now!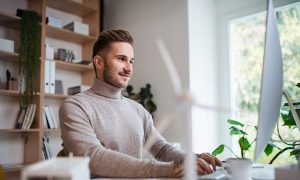 Find out in our webinar on 02 April how you can enable your employees to work productively and securely from the home office.