At many companies, cost pressure is increasing due to rising prices (energy prices in particular), the lack of skilled workers, and supplier markups. After the post-pandemic upswing, this cost pressure is ubiquitous – and IT is no exception. IT teams are also being asked to uncover potential cost-saving measures within the technology landscape.
However, given the fact that investing in digitalization is essential, this is no easy task. Not only is IT extremely important for a modern, digital workplace and therefore for ensuring that an employer is and remains attractive, but ultimately, it is also vital to a company's success because innovations are largely enabled by technology.
So how can we reconcile cost pressure with the need for digitalization? In this blog post, we want to offer you some food for thought in terms of ways to balance these two aspects when it comes to technology for the modern workplace.
Digitalization costs money – in particular for IT itself
IT teams already play an important role in determining a company's success and will become even more vital in the future. On the one hand, IT professionals are significantly involved in developing new business models and driving innovation. On the other, sometimes their job is simply to take a process that was previously paper-based and optimize it through digitalization. Furthermore, IT is also partly responsible for realizing modern workplace concepts.
However, it is precisely these working arrangements that are causing a rapid increase in the number of devices that need to be managed. IT support alone already involves a large amount of work, and this volume is steadily increasing. On top of all this, additional digitalization and innovation projects involve not only the initial start-up costs, but also continuous upkeep costs that primarily put a strain on IT budgets while the resulting savings and profits are realized elsewhere.
Given IT's vital role, is it even possible to cut costs in this area or to avoid increasing current IT budgets? Or will this put a stop to important innovations? In any case, budget cuts need to be carefully considered. However, even against this backdrop, there are still ways to save money, improve cost planning, and get the most out of investments.
Cutting costs, planning reliably, and better utilizing investments
As in-house data centers are becoming increasingly expensive due to rising energy prices, more and more companies are turning to the cloud. And while cloud providers also have to contend with rising energy costs, they are in a much better place to absorb them, for example through better utilization of their servers. But mostly, they can better prepare for the challenges that companies will be facing in the coming years: The German Federal Ministry for Economic Affairs and Climate Action is currently working on an Energy Efficiency Act that will place much stricter requirements on data centers. As of 2024, 50% of the electricity required will have to come from renewables, and as of 2025, that amount will increase to 100%. Since it is clear that the expansion of renewable energies will not be able to keep up with demand, these requirements will not be easy to implement – especially when it comes to operating smaller, in-house data centers. Cloud providers have the advantage here, and can pass this advantage on to companies in the form of added value.
In addition to energy costs, companies are increasingly turning to cloud solutions for other reasons as well, such as availability and scalability. The also applies to management systems for desktops, laptops, and mobile end devices, all of which are vital on the path to digitalization, including for the provision of necessary programs and apps. One example of a cloud-based endpoint solution is Microsoft Intune, which many companies are currently considering in order to also benefit from its interaction and connection with other Microsoft services.
Changes need to be carefully considered and thoroughly planned out. That's why at our next Insight Mobility Talk, three experts from EBF will be discussing what specifics need to be considered when it comes to Microsoft Intune, how to successfully manage this transition, how IT departments can cut costs during the migration phase, and what other measures exist in order to get the best out of Microsoft Intune.
Using internal resources wisely
The task of managing modern workplaces is becoming increasingly complex – in part due to the growing number of devices that are required for realizing modern working arrangements. This ties up resources that are then no longer available for other segments, it is expensive because IT specialists generally demand high salaries, and it increases the risk that employees will leave after a while to look for more interesting positions. After all, most IT specialists want to do more than just managing day-to-day operations and providing infrastructure support; they want to be involved in shaping innovations. As a result, companies lose the money they've invested and are forced to start the already difficult hiring process from scratch.
Managed Services from external service providers can be used to address the problem of having too many internal resources tied up in operations and support. Routine device management tasks are placed in the hands of experts who can handle them more effectively and efficiently, while at the same time allowing your company to react faster and more flexibly. This frees up your in-house IT department, allowing them to focus on their core activities. And this solution also offers advantages in terms of cost: After all, the costs of Managed Services are much easier to plan – especially when you sign long-term contracts that guarantee stable prices. At the same time, companies get to maintain control of their infrastructure, their strategic orientation, and compliance with existing requirements.
Overall, Managed Services help companies to outsource certain tasks with the goal of increasing the innovative capacity of their own employees and freeing up their time for these activities.
Automating manual processes
In many companies, countless processes – including those concerning the digital workplace – still involve a number of manual steps. This ties up resources and increases the risk of errors. When it comes to these processes, automation can help companies cut costs.
For example, Apple, Google and Samsung's device enrollment programs make it possible to automate the rollout of new devices. Administrators can make sure that a device is connected to and managed by a Unified Endpoint Management system. They can preconfigure settings that are then automatically applied during the initial setup. Once a user turns on their device, it's customized based on the company's needs and ready to use after just a few clicks – and the user can handle this themselves, without any IT support.
Many steps on the way to aforementioned cloud migration can also be automated. For this purpose, EBF offers the EBF Onboarder – a tool that provides lots of useful information for users and increased transparency in terms of progress, both of which greatly relieve the burden shouldered by IT teams and also help keep costs low.
Cutting costs and protecting the environment
It's becoming increasingly clear that eSIMs are the future for mobile end devices. For example, in the US, the new iPhone 14 no longer has a physical SIM card slot and therefore can only be operated with an eSIM. This shift also helps to reduce costs: Ultimately, eSIMs make it possible for a user to have multiple plans at once – for example, for business trips abroad, which greatly decreases roaming costs in non-EU countries.
eSIMs offer additional advantages as well: They reduce (plastic) waste because no SIMs are produced or shipped. And, since eSIMs can be operated without PINs or PUKs, this further reduces the need for IT support by eliminating support tickets generated due to employees forgetting or losing their PINs or PUKs.
Using investments more effectively without cutting costs
In our experience, many companies aren't taking full advantage of the systems they currently have. Often they don't have enough time, or they don't know what functions a solution offers or what functions have recently been added and which become possible by updates of the operating systems. For example, we often see that companies are not managing all of their devices on a single platform, even though laptop and desktop devices can be managed just as well as rugged devices. Conditional access – the context-based use of authentication processes – is also a function that is not used nearly enough and that offers a great deal of added value in terms of security and user convenience. As you can see, it's often possible to use existing investments much more effectively.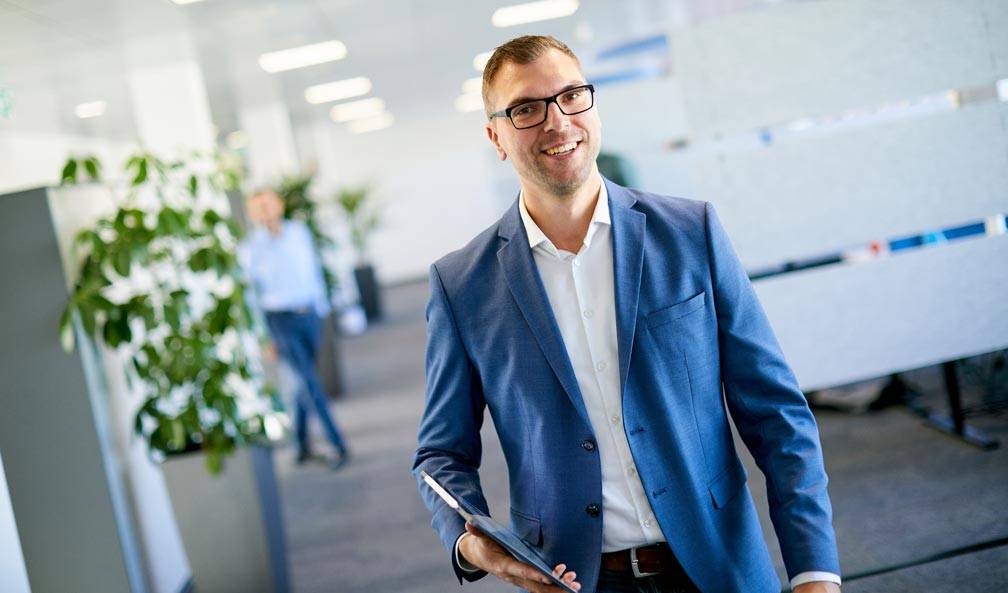 Pressure on IT departments is high. We're happy to help you find solutions that allow you to bring your costs and benefits into alignment by uncovering hidden potential and preparing yourself for the future.