EBF is committed to the (further) development of its in-house solutions for the modern workplace. After all, they address the highly specific challenges today's customers are facing and make a noticeable difference in day-to-day operations.

In our new blog series, we offer you an overview of the latest news on our own products.

EBF Contacts: the mobile address book
EBF Contacts makes it easier to access corporate contacts via mobile devices and displays the names of callers from within one's own company, even if they have not been manually stored in the user's address book. With EBF Contacts, information from the corporate address book can be displayed at any time with details such as the name, profile picture, telephone number, email address, department, position, and manager. Calls can also be initiated by phone or via Microsoft Teams.
The most important innovations at a glance:
EBF Contacts is now available for Android devices, offering the same functionality as iOS and iPadOS devices.
In addition to Exchange Online and On-Premise, the HubSpot CRM system can now also be used as a data source for EBF Contacts, thereby improving communication with customers and colleagues.
Now users can conveniently share their own contact details with others via QR code.
EBF Files: secure, mobile access to company data
EBF Files allows users to securely access relevant files stored on their company's server structures or cloud services via their smartphones and tablets, enabling them to create, edit, and share files with others. EBF Files makes working on the go even more convenient and productive because users can also edit and save files in offline mode, for example. EBF Files is available for iOS and Android.
What's new?
BF Files is now also available as a serverless version for accessing OneDrive and SharePoint structures. This enables the app to be deployed in much less time with significantly less administrative effort.
The app offers a wide range of new features for creating, editing, and searching files that enhance usability. Among others, these include:

Files can be extensively edited and found faster in server and OneDrive/SharePoint structures thanks to an enhanced search option.
Tool settings used for editing PDFs (e.g., color and style) can be saved and used again later.
New folders can also be created as a storage location when copying or moving files.

IT administrators can set a password policy for the encryption password to make working with EBF Files even more secure.
EBF Print: easy, mobile printing
EBF Print makes printing from iOS devices user-friendly and secure. EBF Print uses the AirPrint standard in combination with "Follow-Me" solutions to ensure that users can send files from iOS devices to all installed printers that have been approved for their use. Following successful authentication at the printer, the print jobs can then be printed at the desired time. EBF Print supports Follow-Me solutions by Lexmark, HP, Kyocera, and MyQ.
What's new?
Optimizations for iOS 17.
In addition to Microsoft Intune and Ivanti, EBF Print is now also optimized for connectivity to VMware Workspace ONE.
EBF Onboarder: the UEM migration tool
The EBF Onboarder ensures the (partially) automated migration of devices from one (common) UEM system to another. The solution simplifies communication with end users who play a major role in the success of the migration. Moreover, the EBF Onboarder provides comprehensive reporting capabilities for tracking migration status.
What's new?
It is now possible to schedule invitations for a UEM migration in advance: administrators can easily set the date and time to send emails prompting a device to migrate. This streamlines the tasks for administrators during migration projects, granting them enhanced flexibility and ensuring higher precision.
In addition, it is possible to ensure that users' phone numbers are not fully visible on the EBF Onboarder Dashboard and are also saved to the database in this format. Only some digits are visible, while the remaining digits are masked.
The EBF Onboarder can also assist in migrating desktop devices. For example, the EBF Onboarder can use the deep links in MS Windows to register with the new UEM system. This means that users only receive one login, which minimizes sources of errors and simplifies registration.
Visit our Youtube channel to watch brief demo videos on UEM migration using the EBF Onboarder, from a user's perspective on Android, iOS, macOS, and Windows, and from an administrator's perspective.
Admin console for Ivanti EPMM
EBF's Delegated Admin makes it easier to use and manage Ivanti's EPMM UEM solution by dividing administrative tasks between different admins with different roles and rights.
What's new?
Admins can now prompt iOS updates on supervised, DEP-enrolled devices.
Renewing the DEP token: all client administrators can renew their own DEP tokens themselves, offering them more management options for their own devices.
The AppTunnel status for devices can now also be displayed alongside the status of the ActiveSync connection. This additional data helps admins handle support cases and perform troubleshooting tasks more effectively, for instance.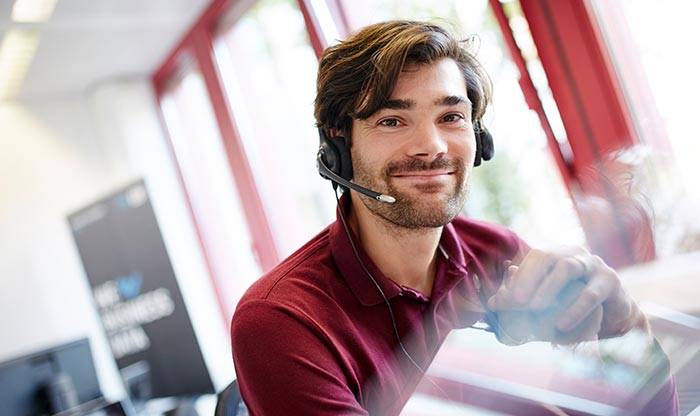 Interested in our products? Have any questions?
Feel free to contact us at any time. We look forward to hearing from you!